Message from School Principal's
Our idea behind true education has always been providing something that suits the best to every individual mind. There is no readymade formula of success; it is highly subjective in nature. We, at Laburnum Public School, believe in taking individualistic care of each nurturing mind with the help of our well-designed curriculum. In this challenging 21st century, it is the self-motivation and self-confidence that keeps a person on his path in any condition and we are here to generate and boost the self-reliance in every student.
Love and logic are the two diverse strategies carried out by our faculty and staff members to foster deep learnings into a child's brain. These two might look like the parts of two different worlds, but we are here to implement each one of them in an effective way in a child's education.
Love is there to foster trusting relationship between the teacher and students and thus creates an environment of free learning for the students. While logic stands for personality development, self-confidence and other moral attributes like self-esteem and self-learning. We, at Laburnum Public School, bring together all the effective ways to make the child's education fun and interesting.
Learning and education are, more or less, a social activity and thus, we maintain a healthy school-home relationship through which the student is able to grasp the humane qualities in a better way.
At last, I would like to say that your child's true and effective education is our topmost priority and we make no exceptions in imparting the same to the students and your child is assured to be in the best hands.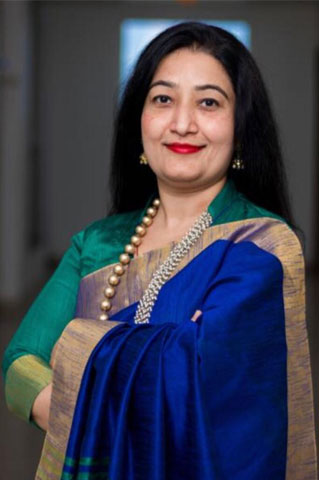 Dr. Bhavna Chibber
Principal